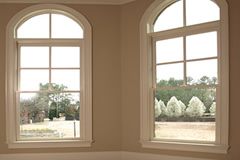 How to Choose the Best Replacement Windows for Your Home
Posted to Home Replacement Windows.
If you are considering purchasing replacement windows for your home, the process may seem daunting. Not only do you need to consider which windows would be best for your home but you must also pay close attention to the home's current structure and your future needs. There are certain key things to remember when choosing replacement windows that will make your decision much easier.
Before making a final selection on which replacement windows are best for your home make sure to consider the following:
Home's structure – Inspect the current window openings for damage or areas in need of repair. You should also carefully measure each existing window to know the sizes you'll need. Because replacement windows are designed to fit into the existing window's structure, you need to be careful to order the proper size for a true fit.
R-Value – The R-value of a window is used to indicate the window's insulation capabilities. The value starts at 0.9 and increases with a window's ability to effectively insulate. Industry standards hold that a window with an R-value of 3 or more insulates well.
U-Factor – The U-factor is a measure of how well a window can keep heat within the home. An ideal U-factor for a residential structure is from 1.1 to 0.3 with higher capabilities indicated with a lower value. Homeowners are advised to choose double pane windows in interior spaces where preventing heat loss is important. Only choose single pane windows for spaces where heat loss isn't a concern such as a shed or a detached garage.
Glass – There are a variety of options when choosing glass for replacement windows. Heat absorbing glass collects and retains solar energy, helping to keep a home warm in the winter and preventing heating in the warmer months. Reflective glass is similar to heat absorbing glass but instead uses an incredibly thin film to reflect harmful UV rays from the sun. Low e-glass utilizes a special coating that helps to boost a home's efficiency by keeping heat in or out depending on the need and season.
Frame – Choosing the right frame for your home depends on your needs, the home's structure, and the climate in which you live. You should consider all your options, including:

Fiberglass – Fiberglass frames are a recently new innovation in replacement windows and tend to cost more than other options. They boast a very high R-value and will save you more on your winter heating bill.
Aluminun – Once the most popular choice in replacement window frames, aluminum has seen a decline in recent years because they are prone to condensation and are not as energy efficient as other options.
Wood – Because wood is a natural insulator wood framed windows also have excellent R-values. Condensation tends to be low but maintenance costs may be high because they require scraping and painting over time.
Vinyl – Vinyl window frames keep condensation at bay because they keep the edges of the window warm. Vinyl frames are also incredibly popular because of the wide variety of styles available and they are very energy efficient.
A professional window replacement technician can help you determine which windows are best for you. Replacing your home's windows is a big investment and you want to ensure you are making wise choices perfect for your home.