Energy Savings Testimonials
Email from Sandy J:
From: Sandy J
Date: Tue, Jul 25, 2017 at 2:49 PM
Subject: windows
To: Joe Bass
Just wanted to show you the significant decrease in our power bill, (see graph below) which we believe is because of our new windows. We cannot believe how much cooler our house is staying on the inside from how it has typically been.

Email #1 from Cathy and John C:
Hard to believe it's been two years since the energy savings project. We are enjoying our windows as much as before and are quick to refer My Guys Remodeling to any friends and neighbors that we happen to have conversations about home repair, energy bills, etc. We specifically remember how My Guys Remodeling was quick to resolve any small issues -- ones that occur with any renovation we assume. Thanks again - and continued good luck with your business venture!
Email #2 from Cathy and John C:
The gas company just informed us that our monthly budget billing, for the next 12 months, would be reduced to just $41/month. --- that's a reduction from $67/month -- a whopping 39%! -- a reduction of $312/year! ...all due to MyGuysRemodeling and their great Vytech windows! We keep bragging about you guys every chance we get!
Email #3 from Cathy and John C:
I know this might strike you funny -- that an old customer would be "reporting in" ---
But the news is terrific! We yesterday got the attached graph from Duke Energy, comparing our electric usage for the last 12 months. You may not recall but we installed a "dual fuel" highly efficient heat pump system (operates at 40 degrees and above) with a gas backup, in the summer of 2008.Well - so much for our efficient furnace.... your windows showed us what real efficiency means! If you look closely at the graph below, it shows that 12/2014 through 3/2015, we were, on average, 38% LESS EFFICIENT than the average house (In February, a whopping 50% LESS)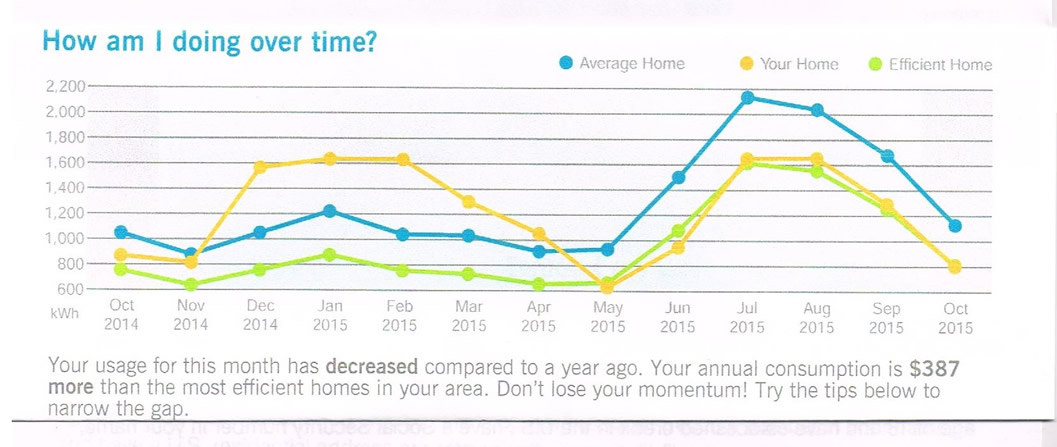 to and for the period 5/2015 through 10/2015, we were, on average, 27% MORE EFFICIENT than the average house (in June, 38% MORE EFFICIENT). JOE -- THAT ADDS UP TO A 65% SWING IN OUR EFFICIENCY! -- thanks to MY GUYS REMODELING !

Feel free to use this graphic anyway you wish.

Cathy and John C.