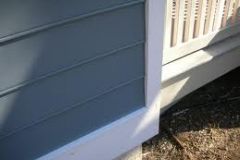 Is Siding Just Siding?
Posted to New Home Siding.
With the purchase of several million square feet of siding each year in the United States alone, that question has great meaning for quite a number of people. Many will go with the most popular, vinyl siding, simply because it is the cheapest. Others will be a little more curious about their options. When looking at siding, the home owner's thought processes should go a little further than initial costs. If a home owner makes the wrong selection, regarding their needs, inexpensive siding can cost a great deal more in the not too distant future.
Those inquisitive enough to explore long term benefits, maintenance and how the appearance stands up to the elements will be in a better position to answer that question. Looking into replacing the old siding with new material will be a brief exercise into information gathering.
Vinyl Siding Is the Most Popular
It is true that vinyl siding is the least expensive and available through most home improvement stores, and all remodeling firms. It has a base price of about 70 cents per square foot and comes in many colors. It can be hung by many do it yourself people and a good portion of them will have stories about how easy it is to do. It does have a tendency to rattle, burn, melt and warp and can be blown off in medium to high wind situations. If hung improperly, it can become a huge issue, aesthetically speaking.
Wood Siding Makes a Statement
A large number of people like the looks of wood siding. It takes one back to the days of small cottages, in the woods. This is a fairly expensive material as it will run in the $5 to $10 per square foot range. It can be self installed, however, having a professional do this installation will be beneficial in many ways; not the least of which is the sealing required. It does not install well, or even at all, over many previously hung sidings.
Aluminum siding is Very Well Known
Aluminum siding is quite a bit more costly than vinyl siding as it is in the $3 per square foot range. It is still popular, even at that cost, and very nice to look at. It is low maintenance and comes in many pre painted colors. It does have the very definite tendency to dent easily and stay dented for years.
Fiber Cement (HardiePlank*) is Known in Many Areas
This particular siding has a cost of about $1.70 per square foot and is composed of Portland cement, water and filler. This filler is usually fly ash. Only HardiePlank* by James Hardie is composed without fly ash, and utilizes Silica instead. Silica is a much more stable material, giving the siding more longevity. Fiber Cement dust can be harmful, it should not be installed without very specific safety equipment, and measures. It is a heavy material, unlike the vinyl siding that many people have that rattles in the wind. It does have its own insulating qualities for that reason and, again for that reason, is becoming more and more popular with about 30% of the market and growing.
Factors to Consider When Trying to answer The Question
Since this discussion revolves around the factors that will allow the average home owner to make the decision about what siding to replace their current one with, a side by side comparison of some of the issues will be appropriate:
Vinyl siding will rattle, warp, twist and burn; Hardiplank will not.
Vinyl siding will tear, fade and blow away; Hardiplank will not
Wood is expensive and prone to rot, molds, mildews and fading; Hardiplank will not
Aluminum siding can be very noisy; Hardiplank is not
Hardiplank can have the appearance of many other siding materials and the long lasting benefits of a stable material when installed by professionals.
These and many other factors will have to be taken into consideration in answering the above question. Other concerns will be the comfort, resale value of the home and bragging rights.